Basic info
Demo account Yes
Minimum deposit $100
Minimum trade $1
Regulated FCA
MT4 Integration No
Mobil App Yes, iOS, Android and windows
Trade signals No
Islamic Account No
CFD info
FTSE Spread 1.2 pips
GBPUSD Spread 1.9 pips
Oil Spread 4 pips
Stock Spread 0.2% Var
Introduction
Plus500 is a UK based CFD trading platform. The platform is owned by a holding company by the name Plus500 Ltd. Under the main company is three sisters companies; Plus500UK Ltd, Plus500CY Ltd and lastly Plus500AU Pty Ltd. The head company is one of the leading within its niche and is listed on the London Stock Exchange or AIM.
The brand Plus500 is widely associated with the words trustworthiness and safety. This has come to be because they operate in many dominions and therefore answer to many authorities. For the sports interested among you, it will pleas you to know that Plus500 is an official sponsor of Club Atletico Madrid and a few other soccer and rugby teams around the world.
General reputation
Plus500 opened for business back in 2008 and have since build a reputation among the community as a company to trust. This trust can be hard to earn given that a lot of companies out there are trying to take advantage of green, blue eyed newcomers. And given the non-transparent nature of the finance world it can sometimes be hard to separate the good ones from the bad ones. But being listed on the London Stock exchange combined with the regulatory agencies there is to be listed underneath, this broker is seen by many as a rather stable one. To give a sense of the level of regulatory oversight with this company, all the agencies who oversee their business are listed under this paragraph.
Plus500UK Ltd is authorized and regulated by the Financial Conduct Authority (FRN 509909).
Plus500CY Ltd is authorized and regulated by the Cyprus Securities and Exchange Commission (License No. 250/14).
Plus500AU Pty Ltd, ACN 153 301 681, AFSL # 417727, issued by the Australian Securities and Investments Commission is authorized to issue these products to Australian residents.
Derivatives issuer license in New Zealand, FSP #. 486026 authorize us to issue these products to New Zealand residents.
Plus500AU Pty Ltd, is also an authorized Financial Services Provider in South Africa, FSP 47546.
Traders in the Europe will by extension of the FCA and CySEC be protected under the rules and laws of the Financial Services Compensation Scheme (FSCS) and the Investors Compensations Scheme. This means that if trader's capital is caught up in any kind of scamming activities they can seek compensations. In UK the maximum compensation is £50,000 and for other European traders the maximum is €20,000.
Available platforms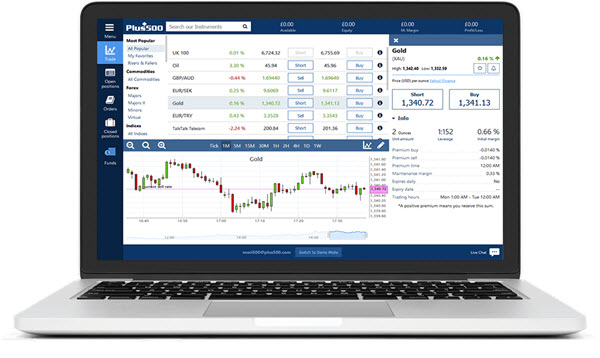 Unlike a lot of other brokers out there, Plus500 offers their own platform. This platform comes in three versions. The first one being a desktop based version that has to be downloaded and installed on the traders own computer. For the people who prefer to save space on the hard drives, Plus500 also made a web based platform, which does not discriminate any browsers and can be accessed from everything from Opera to Firefox and everything in between.
For the trader who are always on the go, Plus500 provide a mobile platform which is up for free download once the client have acquired an account. It can be downloaded from both Apple App Store and Google Playstore.
A perk of the way Plus500 have chosen to make up their platforms is they work together and on can easily jump between them.
Account types
At Plus500 there is only one type of account. No pro account, no beginners account, just there stable standard trading account. To open such an account the client must put down a starting deposit of $100 USD. Once Plus500 work with both a standard and a gold account, but have now left that idea and given all their traders a "gold account", which mean all account holders now get way lower premium fees than before, but as a trade of have higher minimum trade volumes.
As many others Plus500 have the opportunity of a demo account. This is to give possible new customers a taste of the power of Plus500's platform and for existing user to try out to practice new methods and trying out new strategies.
Their assets
Plus500 offers the well assorted asset list one would expect from a top competitor. They cover all the major markets and offer up a dizzying 2000 different instruments which traders can chose from. The assets that are available to traders include all the most used types. You can trade in stocks, options, ETFs, commodities and of cause currency pairs. If you find the right asset leverages goes as high as 1:300!
Customer support
Because Plus500 is such an international company it is a given that they will have to make support available in many different languages, so when wanting to connect with their customer support it is available in 31 different languages. It is open around the clock and can be reached through email and live chat. We are still waiting for telephone support to be an option.
Deposit and withdrawals
Plus500 only offers 3 ways of money transfer, but they are the main ones. You can do transfer through credit cards, limited to VISA, Diners and Maestro. You further have the choice to use eWallets, once again the biggest and most popular are accepted such as Skrill, Paypal and RAPID. And last you can use the good old way of bank wire transfers. All of these methods can be used for both your deposits and withdrawals. All deposits are more or less instant, withdrawal are a little slower on the draw taking 3 business days. There is a minimum for withdrawals and you can only use the method of which you deposited you money.
Accepted Countries
Accepted; Australia, United Kingdom, South Africa, Hong Kong, France, Germany, Norway, Sweden, Italy, Denmark, United Arab Emirates, Saudi Arabia, Kuwait, Luxembourg, Qatar and most other countries.
Not accepted; Belgium, Iran, United States, Canada, Zimbabwe, Nigeria, Cote D'Ivoire, Cameroon, Thailand, Singapore, India.